Finito Ultimate Spray Polish
Expert Advice
Industry Leader
Made in the USA
Safe for Natural Stone
Trusted by Professionals
About the Product
Guide
Reviews
More Information
What does it do? With just a simple spray, this incredible product adds a mesmerizing shine and creates a protective shield. Say goodbye to water damage, pesky fingerprints, and those annoying light scratches. Finito Ultimate Spray Polish effortlessly smooths the surface and takes your routine cleaning to a whole new level! Try it today and prepare to be amazed by the remarkable results! Treat your surfaces with the care they deserve and let Finito Ultimate Spray Polish do its magic. You won't be disappointed!
Safe to use on:
natural stone
engineered stone
finished wood
stainless steel
glass
acrylics
& more!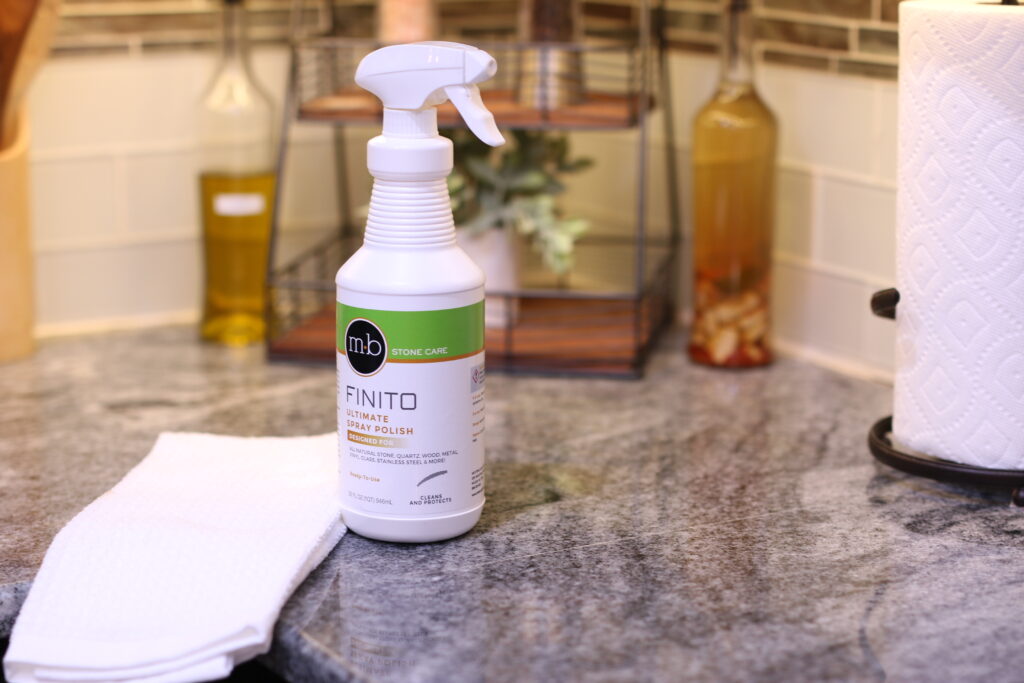 With Finito Ultimate Spray Polish, you're getting a top-tier semi-impregnating finishing spray. It's perfect for that glossy, ultra-smooth finish you crave, and even better, it leaves a smudge-free surface. Just spray it on and buff with your own two hands, or use a machine for more convenience.
After a general cleaning, a layer of Finito Ultimate Spray Polish creates a super-slick surface that won't show a single fingerprint. Not only will your surface look amazing — it's also way easier to keep clean and maintain! So, enjoy the ease and comfort provided by the Finito Ultimate Spray Polish.
Note:
Do not use it on FLOORS!
Preparation:
Surfaces must be cleaned prior to using Finito Ultimate Spray Polish.

Use surface-appropriate cleaners to remove dirt, dust, and/or any buildup.
Step 1:
 Spray Finito Ultimate Spray Polish

misting it evenly over the surface.

Wipe and buff in with a microfiber, or other soft cloth.

After the product has been spread evenly, flip the cloth over and buff dry.
For large countertops or stone surfaces, Finito Ultimate Spray Polish may be buffed in with a low-speed (600 RPM) machine and a wool bonnet, or white pad. All are available at MB Stone, just give us a call at 888-509-5831.
Product Description
Finito Ultimate Spray Polish protects, smooths and beautifies all polished and honed surfaces. 
It adds shine and creates a protective shield that repels water, reduces finger marks and light scratches, smooths the surface and makes routine cleaning easier! Works fantastically on any solid surface not harmed by water including natural or engineered stone, finished wood, stainless steel, glass, acrylics and many more! 
DO NOT USE ON FLOORS.
Made in the USA
Find a Pro
Thinking you need more than just a DIY option to restore your stone? We have an entire network of restoration professionals at your fingertips.